Why choose LICHTECHNIC? Simply because we are the best in the business at doing what we do.
Read more to find out why our partners love working with us below.
R&D Capabilities
The design and development team at LICHTECHNIC is highly inspired by the latest trends in technology, and in design engineering. We utilize advanced techniques to make previously impossible designs into a reality, while following our nose for the latest upcoming concepts and fashions. We can work with any material, and we always do so in the service of flexibility, function, efficiency, and creativity.
Test Capabilities
Just as important as a great design is the ability to test that design and ensure that it works as advertised.
Durability, reliability, and efficiency are all hallmarks of a great product, and a great relationship between customers and suppliers. To ensure that all of our products meet the most exacting standards, we utilize scrutinizing in-house testing, combining a number of different methods. These include:
Photometric Testing
We have in-house photometric testing capabilities for both LED light sources and fixtures. We work with partners for testing and provide the reports and IES files as part of the design-in project.

Thermal Testing
As experts in thermal testing, we are able to provide infrared images and temperature measurements for drivers and modules. The measurement data can be used for lumen maintenance prediction, product lifespan prediction and more.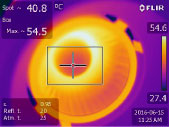 In short, our testing allows partners to gain more insight into the products we manufacturer, giving them accurate data that they can use for marketing, pricing, assurances, and more.
Quality Policy
At LICHTECHNIC , we take quality control extremely seriously. We are passionate about what we do, and that's why we always work to the most exacting standards. We have a number of processes in place to ensure the ideal product every time, ensuring that no small errors creep in through the net. If you're in Malaysia, then you're of course more than welcome to join us for a tour of one of the factories!
And we don't only provide quality products: we also understand the importance of a quality service. That's why we work extremely hard to ensure that we not only meet, but exceed, all of our clients' requirements and wishes.
Our aim is nothing short of total customer satisfaction, and we will not stop until we accomplish that goal.
Standard Certification
Compliances
The modern, functional design and robust, high quality materials make it ideally suited to a wide range of applications.


Want to Work With LICHTECHNIC?
If you're as passionate as we are about well-designed, highly efficient lighting that is driven by technology, then feel free to reach out and get in touch at your earliest convenience. Leave your contact to us by hitting on 'Contact Us' button below. One of our representatives will get back to you, and once you've explained the project, can provide a full no-obligation quote.
We can bring your ideas to life and help to cast them in new light – and no job is too big or small. So if you're interested, get in touch. We look forward to working with you!
CONTACT US